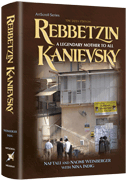 Just a few years ago, no female's trip to Israel was complete, without a visit to Bnei Brek for hafrashas challa with Rebbetzin Kanievsky. Artscroll put together this masterpiece with a clear history of who she was and how she got there.
Judging the Book by its Cover - a first glance review:
The cover is simple, but elegant. With the title in gold, it shows respect and with the image of the simple Kanievsky apartment, it shows their humbleness.
Some Details I Liked:
I loved how this book portrayed the normal side, as well as the holy side of the Rebbetzin. She did work outside the home, but she was also there for her family.
There were also a bunch of stories that I have repeated to others to give over the inspiration and keep perspective of priorities in life.
Who This Book is For:
This book is great for someone who wants to understand what it means to be righteous from birth and grow to be even more than that. It is pleasant, light, inspirational reading.
Who This Book Isn't For:
I would not give this book to someone who is looking to be just like the Kanievskys and take upon themselves some of the practices without the understanding behind it. Great people do great things. Sometimes doing great things makes people great, but only when done right.
What I Didn't Like/W
ould Have Made it Better:
There were some stories that I would have left out because I felt that not everyone could appreciate the level, but for the most part those details were put into perspective.
I also disliked the lack of pictures in the book. I understand that for modesty, personal pictures were limited, but even a picture of the line of women that would wait for a kiss or kind word from the Rebbetzin would have added a lot.
In Conclusion:
So, if you or your daughter can't relate to all the Gedolim books or books, this is a great book with a female role model to read about. I am proud to say that I met Rebbetzin Kanievsky and hope that in some way, I can emulate her greatness.