If you love Torah stories and always wanted to imagine them more vividly, The Daughters Victorious is for you! Romantic, emotional and full of Torah, this historical novel is an amazing read for a more mature audience.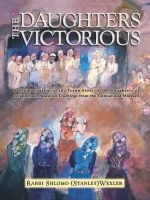 Judging the Book by its Cover - a first glance review:
The cover shows a painting of the five daughters of Tzalafchad presenting to a council. One of the daughters is in front, representing the group. That is Milka, the oldest daughter & main character in the story.
Some Details I Liked:
This book has a beautiful balance of fact and fiction woven together to give a glimpse of what might have been. Rabbi Wexler uses his

knowledge

and imagination to recreate what it might have been like camping in the desert and living with greatness.
Who This Book is For:
This book is for someone that is familiar with the Torah passages and would appreciate the nuances that the author expounds upon.
There is also quite a bit of halachic detail as far as permitted relations (although no explicit acts are described) and family purity, so I would suggest that only religious, married women read this book.
Who This Book Isn't For:
This book is not for someone who will take it as fact or near fact. Rabbi Wexler lists whatever is taken from true sources and beyond that, it is his theories.
It is important to remember that we do not know the personalities of these great people from generations ago and we can not begin to imagine what their life was for sure like.
What I Didn't Like Book/W
ould Have Made it Better:
This book was very sweet. I know I say this a lot, but a prequel to this story would be amazing. That way, we can understand how Tzalafchad got to be who he was and then appreciate this book more.
In Conclusion:
It takes talent to take an over 3,000 year old episode and make it easy to relate to nowadays. This story kept me glued through the ending and satisfied after reading it, something that I rarely get from most novels.